'Hope Echoes' is 'Nathan Burgoine's latest release; the third short story in 'Three Left Turns To Nowhere', a queer Young Adult speculative fiction collection (and my favourite in the book). The series is set in Ontario, in a fictional small-town called Hopewell, which is wonderfully queer-inclusive, has a certain magic to it, and a mind of its own when it comes to leading people to each other. You can read my review of the whole book on Goodreads here, and before I talk more about how much I love Burgoine's story, here's the cute lil graphic I made while reading the book: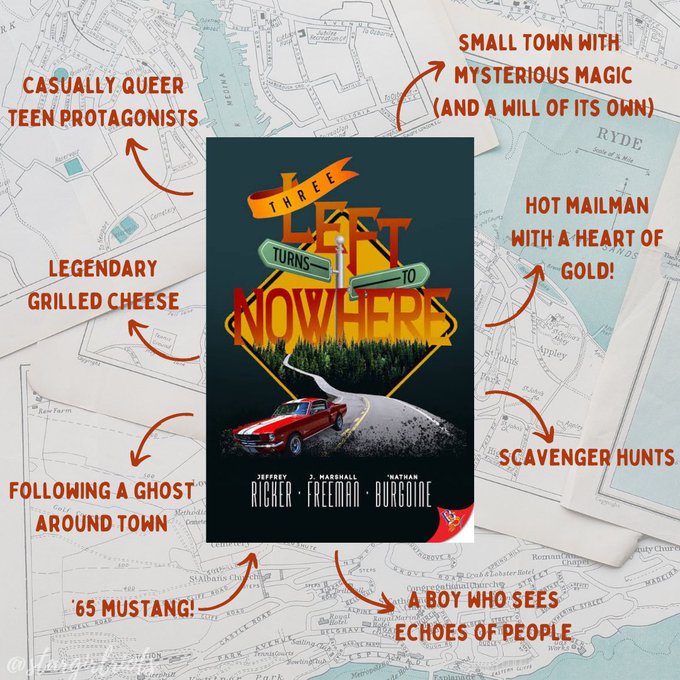 "What? You've never walked up to someone and delivered a long-lost lesbian love letter to their grandmother before?" Of the three stories in this collection, Burgoine's story is the one I connected to most. A lot of that is to with the author's intentions behind this story, which I adore (and link more info on that below) but most of it is to do with how well I could relate to his protagonist, Fielding, and how much I appreciated reading a character with his emotional depth and nuanced anxieties.
Fielding sees "echoes" of people —not ghosts, but replays of memories from moments when emotions were strong, all throughout time: A joyful mailman waving at people while delivering letters, two women in love on the swing of their porch, a girl crying while holding a letter she couldn't deliver. It's happened a few times before, but it's happening way more since he arrived in Hopewell. I love this description of what he sees: "She wove together in twists of light at first, as though where she stood was drenched in sunlight, and it made the girl brighter than the world around her. The real world." "Everywhere he looked, moments were blooming, replaying, and then wilting away in front of him. It was incredible."
I really connected with how fiercely Fielding holds onto hope; how hard it is to quietly have dreams for yourself when things are falling apart for everyone else and you are able to help them. Even the fact that he also mostly reads on his phone and e-reader (he's just like me fr meme). I giggled when he said "Who had time for books about straight people?" I felttt it when he was spiraling emotionally, and the only thing he could think to do in that moment was refresh the Twitter account that could provide him with information.
We rarely see teenage boys (or men at all, if we're being honest) with their emotions casually exposed the way Burgoine has Fielding in this scene. when Fielding has his crushing emotional moment, it is FULLY heartbreaking. I wrote a Kindle note that reads: "So fucking heart-filled and encapsulates the shattered brilliance and ache of being a teenager —the shards of heartbreak lingering on the edges, the ever-present worry, the big quiet wishes." But his moment of pain blooms into something even lovelier than you could hope for.
I loved the meditation on the very specific, familiar anger of crying when you're frustrated. The way it sucks to be misunderstood by the people around you in that moment, the humiliation of tears pouring down your face when you want to be seen as serious and capable, the way it can make the situation you're in worse simply by escalating the way you're misheard and dismissed. And the way Joshua and Logan scoop him up with warmth and love right where he is in that moment.
The way Joshua (a wonderful, and wonderfully-written autistic character with an adorable and also very hot boyfriend) takes Fielding under his wing is the best. And Fielding's overthinking the way they interact with him —also relatable! ("How had Joshua known he could mention his boyfriend to him Or did he do that with everyone?") I found myself relaxing in the same way Fielding did everytime Logan reminded him that he's never gonna see them again, so why is he worried about saying what he's seeing / thinking / feeling. A perceptive, supportive hero! When Joshua uses his knowledge from meltdowns to encourage Fielding to talk through what's making him overwhelmed and remind him that he has two people who care about him. Chef's kiss! The insight, the wisdom, the displays of excellent, life-changing friendship!
This story is also funny! There are moments of humor, mostly about Fielding's tendency to say out loud when people are hot (once again, he just like me fr!). Reading the line "So he's not after us," Logan said, his voice dry. "This hot guy with great legs." honestly has made me burst out laughing a few times just remembering. There's a great scene when we meet Logan's dad and he delivers honesty, history, and advice with a hilarious brutal candor like only a dad can when he's trying to embarrass his kid. Hope Echoes is so joyous, you guys!
True to the heart of what is part of 'Burgoine's mission when he writes, this story is absolutely radiant with "insistent history." While reading Hope Echoes, you can't help but be filled with the encouraging knowledge that queer people have existed all along, and that there have always been people who loved them back, and people who came together to support them and allow them to thrive. It's later revealed how the letter even made its way to the charity shop that Fielding found it in, and that extra, breathtaking magic of the fact that it really should have been lost forever is exactly everything I love about the movie Serendipity, which made me love this story even more! I could not recommend this warm, welcoming, HOPEFUL story more.
Bonus content:
I really enjoy 'Nathan's blogposts about his stories, where he shares his inspiration and writing processes. These two are about Hope Echoes. 'Queer, Coded' particularly hit my quite hard, talking about how he learned to hide things from his parents growing up, and how queer people have been using code to do that for generations. 'Living a Life on Hold' is also so relatable, where 'Nathan talks about how he wanted Fielding's life to reflect the way sometimes a person's life is on hold because of things out of their control, and how Fielding just wants his life to start: